Aqsa Parvez: Death By Hijab - A 16-year old Canadian girl pictured below named Aqsa Parvez, was strangled to death with her own hijab by her Pakistani immigrant father over her refusal to continue wearing the traditional Islamic head covering.
Aqsa Parvez was killed for not wearing her hijab:
The girl's 57-year-old father, Muhammad Parvez, has been charged with murder. Aqsa's 26-year-old brother, Waqas Parvez, has been charged with obstructing police.
Friends believe Aqsa was the victim of a dispute over the teenager's desire to be more western and her refusal to wear the hijab reportedly infuriated her father.
"She wanted to live her life the way she wanted to, not the way her parents wanted her to," classmate Krista Garbhet said this morning.
"She just wanted to be herself, honestly she just wanted to show her beauty, and not be pushed around by her parents telling her what she has to be like, what she has to do. Nobody would want to do that."
<![if !vml]>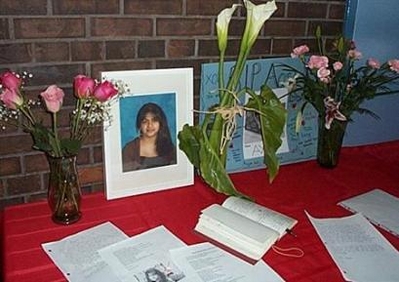 <![endif]>
Aqsa's school chums at Applewood Heights Secondary School say she wanted to break free from the cultural restraints imposed by family.
Friend Dominiquia Holmes-Thompson, 16, said Aqsa told her something could possibly "happen" and "She was scared to go home."
Aqsa had recently been staying with a friend and wanted to return home to get her belongings, friends said.
Aqsa Parvez just wanted to be normal
They said this year the Grade 11 student began taking off her hijab, a traditional headscarf, as she headed to school and put it back on when she returned home.
Friends said her father allowed her to wear "regular clothes," but only if she wore the hijab.
"She wanted to dress like us," said one girl. "To be normal."
"Yes, we were really worried" about Aqsa returning home to get her clothes, Dominiquia said.
Dominiquia said Aqsa loved clothes, dancing and taking pictures.
"She always wanted to change," friend Ashley Garbutt, 16, said. "She just wanted to show her beauty. That's all she wanted to do."
Ashley said Aqsa had asked her to help find a place for her to live because she could no longer live at home due to her father's strict religious beliefs.
Instead, Aqsa was killed by her own father, strangled to death by the very hijab she hoped to escape.
And that's the Aqsa Parvez: Death By Hijab news story.
http://hitsusa.com/blog/388/asqa-parvez-death-by-hijab/