Muslim Women Leaders
Forbes Top Muslim Woman of Power 2007
<![if !vml]>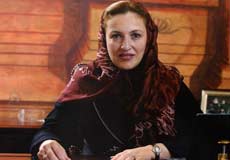 <![endif]>
Dr. Naher Taher
By Family Editorial
Daughters, sisters, wives, mothers, carers activists, community, industrial and national leaders - All of these roles are the roles that Muslim women continue to play as an intrinsic part of the societies in which they live. Who is recognized more, is determined by the beneficiaries, and not always measured by the global market place where women in general are up against increasing violence in one form or another.
Forbes, the top U.S business magazine for the elite covers U.S. Europe and Asia. For better or for worse, Forbes recognized Muslim women in 2007, in terms of power, under the heading "Muslim Women in Charge". A curious heading, which presupposes like the UNDP Arab Human Development report that all Muslim women are unfortunate creatures due to their religion, and that only non-Muslim women are in charge and therefore not so unfortunate. , which does not answer the question as to why more and more non-Muslim women are converting to Islam, does it now! Anyway, let us not side track, and take a look at the top Muslim woman under the category of Muslim Women in Charge.
Dr Nader Taher ranked #72 of the 100 Most Powerful Women recognized by Forbes. A woman of power with a difference, she was referred to as the "revolutionary investment banker" by the U.K.'s top financial newspaper, the Financial Times.
Family & Career
Dr. Nader factors in her upbringing in regards to her success. With no gender biases, she spent her childhood in Kuwait and Texas, U.S.
After completing her secondary education, Dr, Nader married to Refat Bady, a businessman. By the time she completed her higher education with four university degrees, she had had three children,
Dr. Taher, an Arab woman, studied economics at the King Abdul Aziz University in Jeddah, Saudi Arabia. She then went to Lancaster University, U.K. to take an MSc and PhD in Economics, whilst raising her children and taking care of her home. Dr. Nader was offered a position with the International Monetary Fund, but she wanted "to do something for my own country". In her thesis at Lancaster University she considered the oil revenues as a problem, with little savings and investment, and a lot of consumption.
<![if !vml]>

<![endif]>.
The World of Work
When she returned to her home country, Saudi Arabia, she was the only woman out of 4000 men to be hired by one of Saudi Arabia's oldest institutions, the National Commercial Bank. As the first female, she worked as a Senior Economist, who in her three years with the National Commercial Bank, employed 50 more women who were employed in various departments.
Dr. Nader respects her intellect, and has had a burning desire to contribute to the development of her country. In an interview with Al-Hayat she stated:
"At first, the society did not accept the nature of my work, and there were some reservations. However, I found total support and confidence in my husband and family. They were concerned about society not accepting my work, although they had full trust in me and my capability.
"Ever since the beginning, my husband strongly supported and encouraged me. He told me: 'You are one those who can produce change and you must do it'. He used to focus on the importance of what I can offer the society, and the nation not only as a woman, but also as a citizen specialized in monetary economics, which is a rare specialization and the kingdom needs experts in this field. This encouragement supported my desire to prove my capacities as an economist and also my desire to prove that the Muslim Saudi woman is able to work in this field while sticking to her Muslim and Arab identity and traditions. The truth is, is that I found all respect from my men colleagues. The respect of the officials in the National Bank greatly increased my self confidence, and I was assigned to carry out many big missions. Last January [2005], I participated in the Economics Forum in Jeddah where I submitted a paper about the labor market and defects in the economic structure and in the labor market, and how to solve this problem in the Kingdom in general and in Jeddah in particular.
"The truth is, is that I feel that time changed. Before poverty required the families to prefer boys to girls in education, health and even food for they were considered the essential source of revenue. But today, the situation has changed. I feel that we women have made a good deal of progress. True, we are still at the beginning, but there is a very significant change in the attitudes towards women participation in developing their country and citizens.
In 2006, Dr. Nader formed the Gulf One Investment Bank with backing from industrialists in Saudi Arabia and the Far East. Signing deals worth $500mn in water, airports, petrochemicals, mining and technology, with projects in the Middle East, China, India and Europe.
Sources:
MacDonald, Elizabeth & BahreeMegha.The World's Most Powerful Women: Muslim Women In Charge ForbesLast Accessed 12-27-07
Allamuddine, Baria & Nahed Muhammad Taher: The Only Saudi Woman Holding a PhD in Monetary Economics.Al HayatLast Accessed 12-27-07
Alumni Nahed TaherLUMS Last Accessed 12-27-07 Ker, Simeon. The Revolutionary Banker. Financial Times. Last Accessed 12-27-07
http://www.islamonline.net/servlet/Satellite?c=Article_C&cid=1196786592095&pagename=Zone-English-Family%2FFYELayout