Denmark's Veiled Soccer Star
By Nidal Abu Arif, IOL Correspondent
<![if !vml]>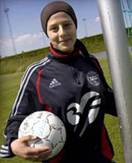 <![endif]>"It is always wonderful to be able to strike a balance between your religious duties and your hobbies," Khatib said. (IOL photo)
ODENSE — Zainab al-Khatib commanders the attention of the women national soccer team fans not just with her unmistaken talents, dribbling skills and spectacular goals but also her colorful hijab.
"I'm so glad that I set a precedent in Denmark," 15-year-old Khatib, the star of the national team for girls under 16, told IslamOnline.net.
She was recently chosen to join the team after receiving permission from the Danish Football Association (DBU) to be the first ever hijab-clad girl to play for a national team, not only in Denmark but across Europe.
Khatib, who only started her professional football career two years ago, is now the striker for the national team.
She has led her team to an impressive victory in their latest match against Sweden, scoring a wonderful goal.
"Zainab has a strong personality and her attitude is always positive and inspirational in and outside the court," her coach Troels Mansa told IOL.
"She is one of my best players and I am so glad to be her coach."
Denmark has a Muslim minority of nearly 200,000 out of its 5.4 million population.
Islam is the country's second largest religion after the Lutheran Protestant Church.
Practical Hijab
When the high school student decided to don hijab nearly a year ago, her mother helped by designing headscarves that cover the hair properly while not posing any hindrance for her in the field.
"She has always been an observant Muslim, and we had to support her fulfilling her sport dream," Zainab's father, Ibrahim al-Khatib, told IOL as he happily watches her training.
"I'm so glad that she proved that being a hijab-clad Muslim does not mean she has no right to practice sports."
Islam sees hijab as an obligatory code of dress, not a religious symbol displaying one's affiliations.
Coach Manas stressed that Khatib's hijab has never been an obstacle.
"We are only interested in her skills and personality," he said.
"I do not remember any player or coach expressing reservations about her hijab."
The issue of hijab in sports thrust into the international limelight recently.
In March 2007, the International Football Association Board (IFAB), the game's ultimate regulators, said hijab is forbidden in soccer games.
The ruling came after a Canadian Muslim was expelled from a soccer game for donning a hijab.
Last January, an American high-school Muslim star runner was pulled out from a local competition for wearing hijab.
An 11-year-old Canadian kid was also thrown out of a national Judo tournament last November for wearing hijab.
Model
Khatib believes all the fuss over hijab is meaningless.
"It is always wonderful to be able to strike a balance between your religious duties and your hobbies."
She says her teammates are very supportive.
"They have welcomed me into the team and I faced no obstacles.
"During our match with Sweden, some players were surprised to see my hijab but nobody commented."
Modest and persistent, she wants her contribution to the team to demonstrate the willingness of Danish Muslims to integrate into society.
"I see myself as a Danish Muslim who effectively contributes to her society and will be proud to represent my country abroad."
Khatib, whose Palestinian family moved to Denmark in the early 1990s, considers playing for the national team a major achievement for all Danish Muslim girls.
"I think it will open the door for other Muslim girls to pursue their dreams of representing their country."
Besides her sports career, Khatib contributes to Islamic charity work in her city Odense.
She also participates in pro-Palestinians events organized in Denmark.
Khatib hopes to be a doctor in the future.
"I want to help the needy and offer a better image for Muslim women's effective contribution to society."
http://www.islamonline.net/servlet/Satellite?c=Article_C&cid=1212925458987&pagename=Zone-English-News/NWELayout