THE  EDHI  FOUNDATION,  KARACHI, PAKISTAN
<![if !vml]>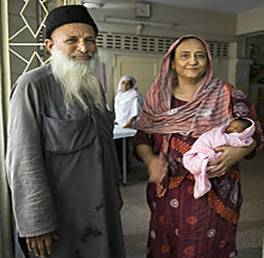 <![endif]><![if !vml]>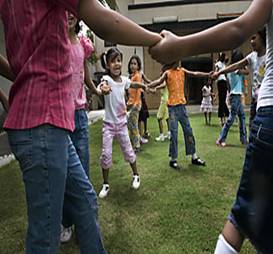 <![endif]>
Top Left:   In gritty Karachi, husband-wife team saves unwanted babies
Top Right:   Home: Girls play at Edhi Home in Karachi, one of 20 orphanages in Pakistan run by a foundation serving abandoned children. Many of the girls live there until they are married.- Jodi Hilton
GIVING: Abdul Sattar Edhi and his wife, Bilquis, have rescued tens of thousands of unwanted babies – mostly girls, which are seen by many as a burden.
Jodi Hilton
<![if !supportLists]>
<![endif]><![if !vml]>

<![endif]>
<![if !supportLists]>
<![endif]><![if !vml]>

<![endif]>
<![if !supportLists]>
<![endif]><![if !vml]>

<![endif]>
<![if !supportLists]>
<![endif]><![if !vml]>

<![endif]>Children at the Edhi Center have class. Female literacy in Pakistan is 43 percent.   Jodi Hilton
Abdul Sattar Edhi and Bilquis Edhi are revered for their work over the last half-century, pulling abandoned babies from the dumps and drains of this Pakistani city.
By Joel Elliott | Contributor to The Christian Science Monitor
from the July 14, 2008 edition
Reporter Joel Elliott discusses the Edhi Foundation in Karachi, Pakistan.
KARACHI, PAKISTAN - Tiny, pink, and asleep in the arms of an orphanage worker, Amna didn't know she had survived being abandoned two days earlier in one of the world's grittiest cities.
Nurses had found her crying alone outside a local hospital – one of hundreds of babies abandoned in Pakistan each year. But helped by the Edhi Foundation, a nonprofit humanitarian organization based in Karachi, Amna soon would be adopted by a local couple who had been unable to have children.
The heads of the foundation, the husband and wife team of Abdul Sattar Edhi and Bilquis Edhi, have achieved a revered status for their work pulling abandoned babies from the dumps and drains of Karachi and receiving them from mothers with no questions asked.
In more than a half-century of work, they have rescued tens of thousands of babies and – despite prejudice against such children – placed an estimated 16,700 in adoptive homes.
"It's an amazing thing, because here in a society where there is no place for an illegitimate child they are providing a place for them," says Meera Jamao, a reporter for the newspaper Dawn. "People do hold [Mr. Edhi] in high respect.... He is viewed as the Mother Teresa of Karachi."
The foundation has encountered resistance from religious leaders and other members of the local community, the Edhis say, because it takes in abandoned babies regardless of ethnicity or religion. The foundation makes an effort to match babies with people who are of the religion of their parents, if it is known – a highly sensitive issue among the country's religious leaders.
"It's very dangerous here," Mrs. Edhi says. "The mullahs right now only threaten to kill us – if we gave a Muslim child to a non-Muslim family, they would kill us for sure." But despite numerous death threats, they have persisted.
Today, the Edhis and workers with the foundation say, they find fewer babies abandoned in the dumps as mothers have become more aware of the service they provide. The foundation's headquarters takes in about 300 abandoned babies each year, down from a peak of about twice that number 30 years ago.
As the foundation has grown, it has occasionally been accused of corruption among the lower-level staffers, but the Edhis continue to maintain a broad base of support from the public. Mr. Edhi has gradually handed over the reins to his son, Faisal Edhi, who has worked to bolster discipline and structure in the institution, say observers.
A partnership based on charity
The couple's partnership began in 1964, when Bilquis, then 16, asked Abdul to let her join the foundation, which he had been building for 14 years, to train and work as a nurse. Though 20 years Bilquis's senior, Mr. Edhi soon proposed to her – in the maternity ward – and they were married in 1966.
By 1970, realizing that abandonment was far more widespread than they had thought, the couple mounted a public education campaign and began placing cradles throughout the city in hopes of encouraging mothers to leave their unwanted babies anonymously.
Today, they maintain about 40 cradles in Karachi, and 350 others throughout the country. Approximately 50,000 children at any given moment depend on the foundation for their survival. Mrs. Edhi, a warm, motherly figure known throughout the city as "Baji," or "big sister" in Urdu, heads the foundation's baby rescue operation and free maternity ward in Karachi. Mr. Edhi often rises as early as 3 a.m. to help feed some of the orphans. With cropped white hair, a long beard, and a worn, homespun salwar kameez, the traditional Pakistani dress, Mr. Edhi travels the country and the world raising funds, efforts he characterizes as being "a beggar before the public."
The Edhi Foundation also runs a number of other humanitarian-based operations, including a country-wide ambulance service, maternity wards, hospitals, morgues, and schools.
The problem of abandoned babies is partly a matter of economics, says Mr. Edhi. "Our country is very, very poor," he explains, his spare frame looking small behind a heavy wooden desk surrounded by posters of the foundation's projects. "We have hundreds of thousands of hungry people."
Despite its status as the country's center of commerce, Karachi's poverty rate is around 50 percent, more than twice the rate of the country, according to a city study. Impoverished couples often find themselves with no way to support their growing families. With a female literacy rate of 43 percent and a deeply entrenched dowry tradition, female babies are seen as a liability and thus abandoned or even killed. The Edhis' records show that they find more than twice as many abandoned girls as boys.
While tens of thousands of girls spend their days in the orphanages, many until they are married, the Edhi Foundation keeps a waiting list of several thousand families who want a baby boy. "I tell them, I don't make boys here," Mrs. Edhi says. "But with so many of the people, that's all they are interested in."
Screening a potential adoptive couple
Mrs. Edhi fields dozens of inquiries daily about either adopting babies or else leaving them in her care. Her phone rings constantly, and a string of visitors files into her office from the dirty, crowded street that snakes through a cluttered bazaar in downtown Karachi.
On a recent morning, a young couple entered her dimly lit office, silent except for a few whispered exchanges. They carried documents indicating their annual income, paper-clipped to a glossy photo of their wedding four years before. They wanted a child because they were unable to conceive, Hamid Khan told Mrs. Edhi.
"They were saying it was her problem," he said, referring to his wife, Rosina Khan. "But it is not her problem, it is our problem. We love each other and we don't want to split up."
Mr. Khan took out a cloth and began wiping away his tears as Mrs. Edhi interviewed him and his wife. He explained that their parents had pressured them to divorce. Theirs was a 'love marriage,' not an arranged one, and their parents had taken their barrenness as a sign that the union was not meant to be. Finally, the couple worked up the courage to ask Mrs. Edhi for a child. Atypically, they wanted a girl. "My neighbor has a little girl, and I like to play with her," says Mrs. Khan. "I'd like a daughter."
Later, Mrs. Edhi verifies the couple's information and places them on a waiting list. She doesn't grant all requests. Families with children of their own are denied, and Mrs. Edhi tries to weed out suspicious-sounding callers. In addition, the foundation assumes most abandoned babies have been "born Muslim," and will only place them in Muslim homes.
Children come to one of the Edhi Foundation's 20 homes around Pakistan as infants or older and remain there until adulthood if they are not adopted or claimed by their parents. Schools attached to the orphanages provide an education that extends into the teen years. Some stay on and work for the foundation.
Some children who had lived their whole lives in the orphanages knew little or nothing about their origins. "I have been here since I was a baby," says Mona, a teen who like others has taken Edhi as her last name. "I like it very much. They are my parents, and this is my family."
Information about the Edhi Foundation can be found at their website: www.edhifoundation.com. The Edhi Foundation does not accept donations from government agencies or religious organizations, but will accept donations from individuals.
http://www.csmonitor.com/2008/0714/p01s02-wosc.html#