Palestine
's lady Sharia judge
<![if !vml]>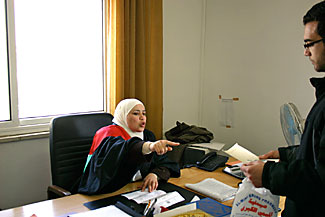 <![endif]>
May 14, 2009
Bess writes: Khouloud el-Faqeeh (pictured left) is unique. One of the only female sharia judges in the world, and certainly one of the first in the Middle East. From her courtroom in Ramallah, reports the Christian Science Monitor, Ms Faqeeh is on a mission to "change her society, case by case".
She gives bad husbands who discard new wives and refuse to pay the allotted alimony a well-deserved religious lecture: "I advise you to remember that you have to worship God by being kind to other people,. Why didn't you give her full rights? Would you like people to treat your daughters the way you treated [her]?... You have breached Islam with this woman.... You can go and pray to God, but I wonder how your worship will be received in light of this."
But she won't bend the rules for women, or for that matter anyone. Her appointment, one a pair of women sharia judges to be appointed in Palestine in March, has, of course, garnered a mixed reception.
The chief sharia judge, Sheikh Tayseer Tamimi, says he is "proud" of Faqeeh who was so determined to be a sharia judge that she turned down high ranking positions in the civil courts.
"The stereotype that Islamic institutions are against the rise of women professionally is wrong," he explains."The presence of a woman sharia judge will enrich the institution of the courts, especially when it involves a woman whose academic as well as personal qualities make her perfect for the job.... I have full faith in her capabilities."
Sheikh Hamed Bitawi, an elected representative of Hamas and head of the Association of Islamic Scholars and Scientists, on the other hand, while admitting nothing in Islam bars women from any role save that of Caliph, considers women to be " gentle human beings who should not be subjected to difficult situations or difficult decisions." He explains: "They cry easily, and hence their judgment is tainted with emotions. Moreover, lawyers are difficult to deal with and people who come to courts are angry and violent." Not that that sounds like a deterrent for the formidable Ms Faqeeh.
Top of her law class at Al-Quds university in Jerusalem she set up her own law firm, and in a qualifying exam for 45 would be Shariah Judges, came towards the top of the nine who passed.
She justifies her appointment saying: "In Islam, it says a sharia judge has to be a Muslim, rational adult" – not necessarily a man, she explains. "Whenever I would discuss this with the chief judge, he would say, 'This is tradition.' I didn't buy it.I'm a legal person, and, to me, legal issues are stronger than tradition."
Hear. Hear.
http://timesonline.typepad.com/faith/2009/05/bess-writes-khouloud-el-faqeeh-pictured-left-is-unique-one-of-the-only-female-sharia-judges-in-the-world-and-certainly-o.html